Jul 11
I've seen pictures of the new Chevy Camaro in quite a few car magazines over the past several months. This month I saw the car premier on the big screen in Transformers. This stunning shot is of the convertible concept car – which is due for production as a 2010 model (the coupe, as seen in the above-mentioned movie, goes on sale next year as a 2009 model).
If they offered it in my color: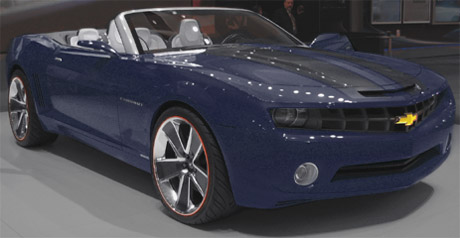 Speaking of blue Camaros, I got a used tire for my Camaro this past weekend and have driven the car to work all week because the Blazer is having issues. In fact, it is having so many issues that I've decided to sell it. After fixing it up and getting new tires for it, I should be able to sell for a decent amount. It is worth enough to payback the repairs and (hopefully) have enough left over for a full set of tires for the Camaro plus another commuter car (about $2k for something old and small that gets decent gas mileage).
If anyone knows someone who wants or needs an SUV for about $4500, let me know!
Posted by Josh on July 11, 2007 at 11:22pm
Leave a Reply