Feb 03
The last time I posted was on Will's third birthday. It was also my dad's birthday that day – though he's a little older than three now. The next day we had a party for Will. We've been doing a lot of entertaining lately, so I haven't had a chance to pull together the pictures and make a post – until now. I'll start with Will's birthday party (including some good pics). Below the jump, I'll go into more details about the rest of our January.
The Birthday Party
On Saturday the 12th, there were a lot of kids. We invited some of our friends from the neighborhood, several of Malin's friends (who mostly live nearby), and several of my friends (mostly from work – and mostly not nearby). All in all, I think we peaked at about seventeen kids – two of whom were just babies. The tally of adults was slightly higher: twenty-one at the party's peak. So we had a good turn-out.
I've mentioned that Will is addicted to Lego Star Wars on our X-Box. Starting the week of his birthday, we instituted a new policy: he is only allowed to play as a reward for staying clean and dry all day (by this I am, of course, referring to our attempts to potty-train him). The day before his party he did good, so before everyone showed up, we allowed him to play a little. This, as it would turn out, was not a wise decision. As soon as the first guests arrived, Will was still over-enthused about his video game and insisted that all of the kids come downstairs to watch him play. The result was that all of the kids present wanted to play, and Will had to share his game with everyone else. He was not happy about this. I think he was genuinely hoping that all of the kids would be content to watch him play. Many of the kids present had also played this game (many owned a copy of it themselves) and were excited at the prospect of playing it. So Will had to learn the hard way how to share his favorite thing.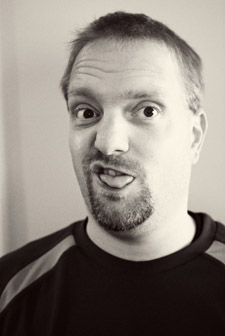 We did get some get pictures of the crowd that made it. I particularly enjoy the picture on the left; this is Eric. He was born with very limited motor skills over most of his upper-body. He also has a large indentation in the back of his head, making his cranial cavity smaller than most adults his age – thus putting a limit on the amount of brain matter that his skull can hold. The dent in his skull causes pressure on his brain that occasionally leads to sporadic fits and seizures. That is why he looks this way. Please don't laugh. It's a serious condition.
I'm just kidding, of course. Eric is a colleague and fellow musician. When he is not programming computers, robots, and lasers for a living, he is an avid video game enthusiast/collector, he plays rock'n'roll bass guitar, and he has tried his hand at stand-up comedy. This is a rather successful attempt at hamming it up for the camera. He and his whole family (wife and three kids – one Will's age and two that are older) came over for the party.
Here you can see the two birthday boys: Will on the chair looking up, trying to hold a conversation with his grandpa, who is leaning over the banister to talk to him.
This is the spread of dessert stuff. We had an entire table full of non-sweet food, too, but it simply wasn't as photogenic as were the cupcakes: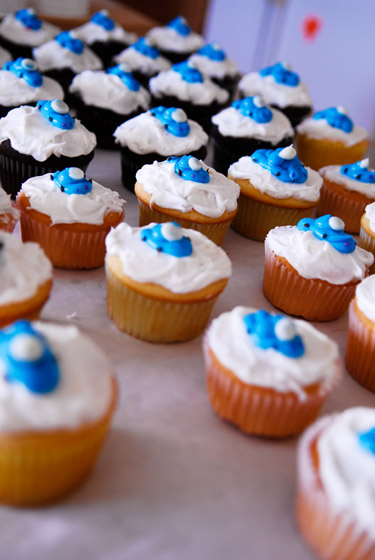 And here is the birthday boy, about to blow out the candles in his birthday cupcake: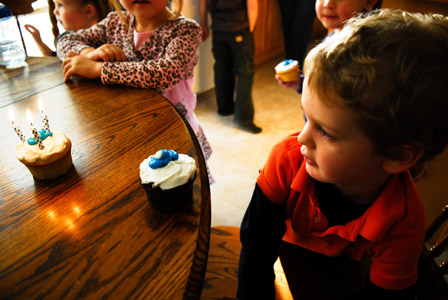 Our thanks go out to all of our friends and family who came by (formal "thank you"s are in the mail…).

The Blizzard
So, the week after Will's birthday party, we had a snowstorm. Okay, Okay – it wasn't really a snowstorm. But we did get a couple of inches of snow. That weekend we took Will outside to play. Here you can see him having a good time throwing snowballs at his mommy: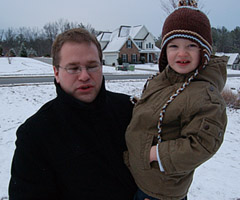 What would a winter be without a photo of dad (me) blinking for the camera? How about this beauty?
By the way, sometimes half of my wit (or lack thereof) is packed into image titles. In case you haven't tried before, hover the mouse over the photos to see my captions (sometimes normal, sometimes funny, and sometimes completely ridiculous). Perhaps I should have a contest among commenters that can provide better/funnier captions to the pictures herein.
The Baby Shower
So, the weekend after our winter storm, we hosted a baby shower for one of Malin's long-time friends, Stephanie. This will be Stephanie's and Joe's (her husband, duh!) third child. Their other two, AJ and Aleigh, are friends of Will's. They are both older, but he still really likes hanging out with them; and somehow they manage to tolerate him :)
Here are shots of the grazing table (notice the pimp cake sitting right in the middle) and of the party favors (filled with chocolate Kisses) from the baby shower: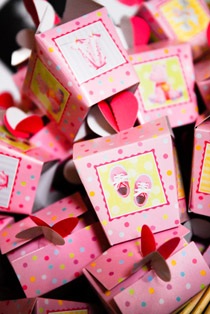 There were tons of kids at Stephanie's shower – almost as many as at Will's party, but not quite. They included several older kids, who took great pleasure at wrestling and being crazy. A very positive influence for Will, no doubt…
The Boy Who Would Not Go Quietly
Will started pre-school the Monday after his birthday. When he was picked up from school, he said that he had fun and met a lot of new friends. But the next day, he cried and screamed the whole ride there. He did not want to return to school. This continued through Thursday.
On Thursday when he got home, he had a slight fever. Due to restrictions at the school, in a measure to prevent the spread of illness among the students, kids are not allowed to return to the school if they have vomited or have had a fever in the past 24 hours. So Will stayed home on Friday. Luckily, Will was not really sick. His fever went away, and he was fine the rest of the weekend.
The following Monday was Martin Luther King Jr. Day, in observance of which Counterpane, Will's school, was closed. So Will had a nice, long, four-day weekend. That weekend he asked to go back to school. We thought that was a good sign. Until it was time to go to school on Tuesday.
That week he continued to cry and have a fit in the car on the way to school. Every morning when he's getting dressed he tells me "I don't have to go to school" in a pathetic, half-crying way. Luckily, he seems to finally be getting adjusted. Starting this past Thursday, he no longer cries in the car ride there, and he even smiles at Norman – a teacher at the school who doubles as the greeter, walking all of the younger kids from their car to the building.
Will has still been having some difficulty with potty-training. Playing "Lego Man", as he calls, is a privilege for keeping clean and dry a whole day. He talks about it way more than he actually plays it unfortunately. But he is getting better every week.
That reminds me: on my first post of the year, I briefly alluded to Will's not having a great New Year's Eve. I suppose I owe a brief explanation. Malin and I had intended to let him stay up as late as he could. If he could remain awake until midnight, he would get to see the celebration on TV on perhaps even fireworks outside our window. Our only requirement was that he behave. He completely blew a fuse at dinner, and he was sent straight to bed. It was all very unpleasant. I'm not sure what reminded me of that event, and now that the story is told I can see that it isn't much of a story… So, moving on.
The Bowl
Tonight is the Superbowl. Very shortly, the Giants and the Patriots will wage what is sure to look like war on the gridiron. We're cooking up miniature pigs-in-blankets for our meaty, football-fueled feast. Anyone that really knows us knows that we aren't actually that into sports, least of all NFL. We'll have the game on the television, and I'm sure it will be fun to watch (after all you expect entertainment from advertisements that cost north of $100 grand per second). But mostly it is an excuse to carnivorously consume swine.
Leave a Reply