Jun 19
It has now been nearly a month since Memorial Day weekend. Sorry for the long delay. Malin and I need to work on a better way for me to get to her pics. She takes lots of photos, but I sometimes have to spend a good bit of time digging around her hard drive to find the ones I'm looking for when I post.
So as you may know, we had a long memorial day weekend on the beach at Oak Island, NC. We were there to see our good friend Audra marry her fiance (now her husband), Jon. We were also planning to bring some foodie entertainment for everyone, and Malin would be taking pictures the whole weekend.
Arrival
We left Greenville on Friday morning. The day was slow. Will watched Return to Oz for the first time, and he enjoyed it. We still need to get the original The Wizard of Oz on DVD so he can watch that one…
After about five hours of driving, we arrived at a phenomenal house. It had eight bedrooms, a small pool, a balcony with a hot tub, a deck, and an industrial kitchen packed with nice cabinets and even nicer appliances. Once we figured out in which room we would be sleeping, we hastily unpacked our car.
Several folks had already arrived – among them Audra, Jon, Jason (my long-time friend and brother of the bride), and Donna (Jason's wife). We decided to order pizza to make dinner easy. We ordered a slew of pies, which would be slowly consumed as folks trickled in throughout the day and evening.
That evening Malin went out to the beach with Audra and Jon for an engagement photo shoot (click the pic to see a little more):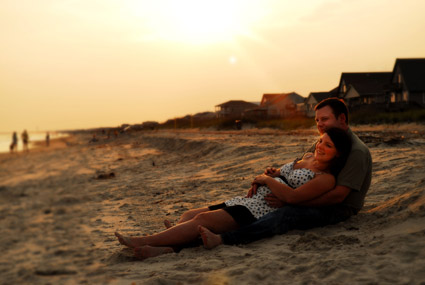 After the engagement shoot, we spent a fair amount of time hanging out in the "game room" of the rental house. For what seemed like hours, Audra and Jon busily scanned in childhood photos of one another, to be shown in a slideshow that would be displayed on a big, flat-screen TV during the wedding reception the next afternoon.
This, unlike the remaining nights at the beach, was not a late night. We retired at a reasonable hour.
The Wedding Day
When we woke up, we were treated to breakfast. Some of Audra's and Jason's family cooked up some scrambled eggs with hashed potatoes, biscuits, and sausage gravy: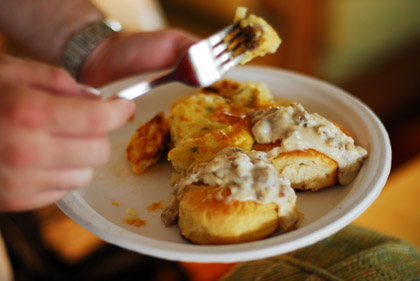 Most of the morning, Will played video games. Maysa, Audra's youngest sister, brought her Wii with her, along with many games that Will found to be quite fascinating. Maysa and Catrina shared with Will.
Malin and I had one key task to accomplish before the wedding: buy fresh seafood for the reception dinner. We went down the road and happened upon a wonderful fish monger. The guy that ran the place was incredibly friendly and incredibly helpful as far as what to buy. We told him we wanted to do a low-country boil with blue crabs and other shellfish and that we needed to serve as much as 20 people (there were more people at the wedding, but there would also be other food like burgers and dogs).
We went home with a big box o' crabs. Yummy!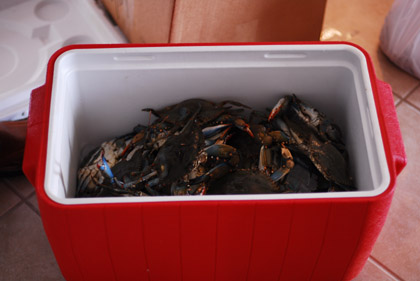 We returned in time to see "the cake lady" delivery the cake. It was very pretty, and they (the cake lady and her assistant) nearly toppled it over while setting it up on a table. Some of the seashells looked so real, and yet they were all made of chocolate: genius!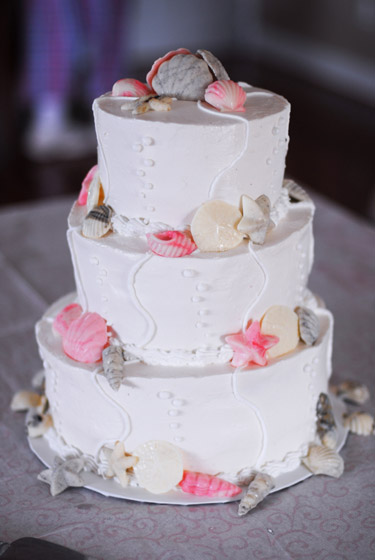 Speaking of chocolate shells, here is a pic of Audra's and Jason's youngest sister Maysa (left) and their cousin Catrina (right), packing party favors with more of the ingenious confections.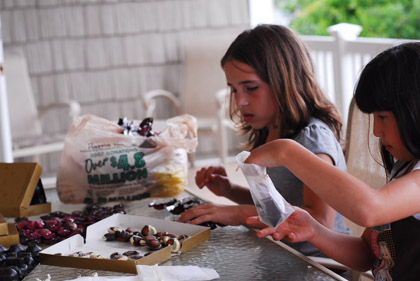 Also before the ceremony, Malin was able to sneak into the bridal suite and snap a picture of the bride and her younger sister Lauren getting ready for the big event: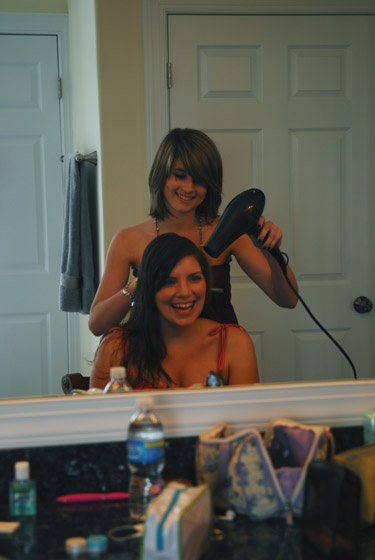 The ceremony began on the beach amidst beautiful weather, surrounded by sand and ocean. It was quite nice. Unfortunately, I missed most of the ceremony due to a disagreeable three-year-old. Will insisted on walking along the beach to look at seashells. Every time I insisted that we watch, he would get upset and very loud. Not wanting a tantrum to disrupt the event, I gave in and let him walk around picking up shells. I even tried to persuade him through peer pressure: "Catrina and Maysa are watching the ceremony", but it was to no avail. I was hoping that last bit would work since he had developed a bit of a fascination with the two girls – perhaps even a crush on Catrina.
Luckily, Malin was able to capture the beauty of the day so that I could look upon it on a computer monitor afterwards. Click the photo to see a little more.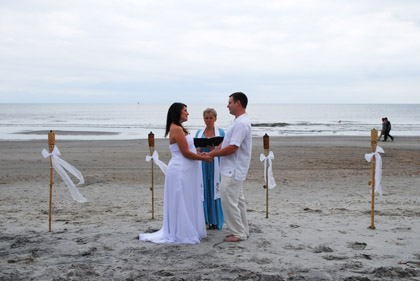 After the ceremony, the cooking began. Jason and his uncle Eric manned the grill stations, cooking up burgers and dogs for the hungry crowd: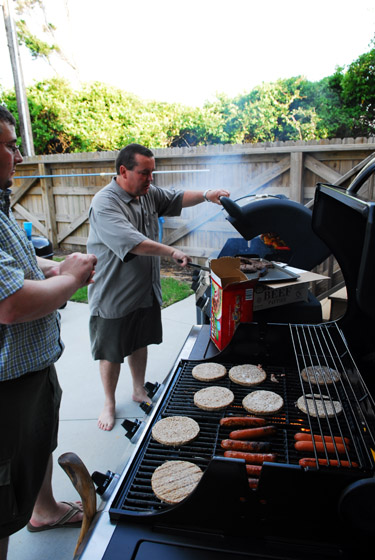 Meanwhile, I was at the seafood station, boiling corn on the cob, pork sausage (it wasn't Andouille, but it was still good), potatoes, four dozen blue crabs, and five pounds of shrimp. It was divine. The crabs tried to put up a fight, but they don't fight so good when their brains are half-frozen from sleeping in an ice-filled cooler for hours: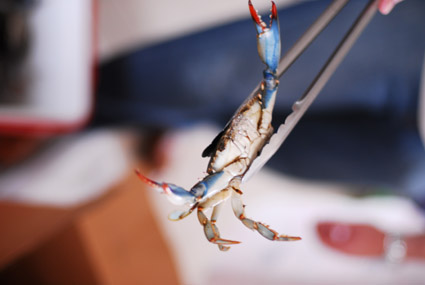 As it would turn out, the fish monger sold us too much crab and shrimp. This was partially our fault – notably less than 20 people were hungrily partaking of the low-country boil.
So that evening several folks, including Jason, Donna, Lisa (Jason's and Audra's mother), and Dave (Jason's and Audra's father), helped to shell left-over shrimp and crabs. We decided to shell it all and save the succulent meat for more crabby goodness the following day…
Will spent most of the night watching Ian, Jon's nephew. Ian had brought his Nintendo DS, and Will was quite entertained by watching him play video games on it.
That night was a late one. Many of us stayed up until the wee hours, talking, and sipping whiskey. I retired around 2:30am. Jason, his dad, and Bryan (Jon's older brother) stayed up until almost 5am… A good time was had by all.
The Day After
The next day, with some assistance from Jason and Malin, I whipped the left-over, shelled, crab meat into crab cakes for brunch. This was a lot of fun, and everyone enjoyed the final product. The recipe I found (randomly happened upon it online while searching for recipes whose ingredient lists were satisfied with what we had in the kitchen) was a good one, and they turned out awesome.
After brunch, Jason, Dave, and Jon went to the big pier on Oak Island to go fishing. Will wanted to watch them fish (he actually wanted to participate, but he needed some assistance, so the real work was done by the three folks who had acquired fishing licenses).
It turned out to be a very slow, quiet afternoon fishing. Apparently there was only one bite: Jason caught a small shark.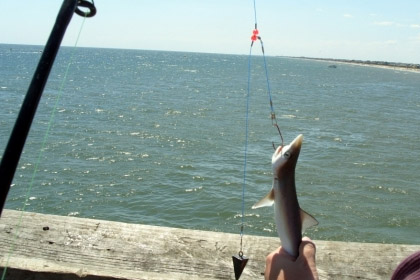 When we returned to the big ol' house, I had to start preparing dinner. I accompanied my dad on a fishing trip in New Orleans in early May and had brought back many delicious spoils (twenty pounds or so of red fish). Malin and I brought some of the fish with us to Oak Island, just in case we didn't actually catch enough fish there to feed everyone.
That afternoon, I had to skin all of the boogers. They were filleted by the dockhands, but the skins – with scales in tact – remained. My dad called them "on the half shell."
After skinning and scaling all of the fillets, Malin set about cooking them in a bath of bubbling oil, along with thick-cut potatoes. And, voila, fish and chips was served for dinner. Dinner even included a cocktail shrimp appetizer, thanks to the leftover shellfish from the previous evening. This meal turned out marvelously. Everyone was well-fed and enjoyed it, and it was a fulfilling and pleasant experience to help out with the food and have everyone like it so well… two meals in a row, no less!
That evening was another late one, though not quite as late as the previous night. Jason and I sampled some very nice spirits that were brought for the event: Patron Silver, Bushmills Original, and Johnny Walker Black Label.
The Trip Home
The next morning, we had to wake up and start packing. Checkout was at 10am, so we had to have everything out of the house before that so the keys could be returned by 10.
It was difficult saying goodbye to such a good weekend and to the friends that were there with us. We got on the road and started driving back to Greenville, SC.
Will watched Return to Oz numerous times in the car on the ride back – it was his newest addiction (which has since been replaced by Harry Potter, and more recently Indiana Jones and Batman).
As we were driving near Columbia, SC, we were hungry for lunch and decided that what we really wanted was Taco Bell. We had borrowed a GPS receiver for our laptop from my dad, and used it to find a Taco Bell.
My dad calls her "Betty." She barks directions at you in a calm, unflinching manner as you drive. Damnable Betty supposedly drove us to two different Taco Bells in Columbia. Neither were there. Neither appeared to be locations where there ever was a Taco Bell. Curse the software and its bad database of "points of interest."
When we got to Greenville, my mom took us to a very interesting restaurant named Saskatoon Grill. They specialize in interesting game, wild foul, and steaks – Canadian-style supposedly. The Kangaroo steak I had was quite delicious, though not particularly Canadian. We also had an appetizer that featured three sausages: one made from wild boar, another from buffalo, and the last from ostrich meat. Malin's entrée was a sampler of meat: lamb, buffalo steak, and duck breast. Overall, it was an interesting meal and tasty to boot.
The morning after that was the Tuesday after Memorial Day. We had breakfast with my mom at IHOP and then hit the road yet again, homeward bound. This trip, we managed to find not just a Taco Bell, but a Taco Bell / Pizza Hut Express! Sometimes life shines upon you brilliantly.
Leave a Reply