Jul 15
Just like our trip to the beach in May, I have allowed four weeks to pass since we returned from Boston before actually writing about the trip. Perhaps this blog is simply cursed to always be about one month behind…
Malin took her camera along, and Will loves being in pictures (several times, he stopped and insisted that Malin take a picture of him right then and there). So this post has a decent number of photos…
Getting There
We had a bit of a rough time getting to the airplane. First, on auto-pilot, I drove towards the airport instead of towards our park-and-ride facility of choice. After doing a loop around Hartsfield-Jackson, we finally managed to get to our park-and-ride facility. And… naturally… it was full. I'd seen them full before only once – during spring break. I wasn't sure why they were so busy now. I suppose it was just after school got out for summer, so perhaps a lot of families decided to fly to an early summer vacation destination, much like ourselves. They gave us a coupon for one free night at another facility up the road (same owners of course).
We drove up the road and parked, hopped on the shuttle to the airport, and made it all the way to the airport before realizing that we had left something in the car: Will's booster seat. We didn't need his seat for the airplane so much as for the rental car once we landed in Boston. The shuttle driver was nice and happily drove us back to the car and then back out to the airport.
We were finally at the airport – all of our junk in tow! The next bit of fun we had was getting our boarding passes. We had Delta e-tickets, so the shuttle driver dropped us off at the Delta terminal, and we walked up to an available kiosk for check-in. As Murphy's Law would predict, we were unable to get our passes from the kiosk. As luck would have it, our seats were on a "partner carrier": Continental. Even though we booked the flights through Delta and Delta and Continental are "partners", we still had to lug all of our junk to the other side of the airport (Continental and Delta are not on the same terminal) to check-in and get boarding passes.
Thankfully, we had left home early enough to allow plenty of time in security lines. That meant we were early enough that all of the mishaps so far didn't cause us to miss our flight. In fact, since we were lugging around so much stuff (a three-year-old and a booster seat is what really did it), we were let into the special, short security line that is intended for disabled passengers, passengers traveling with infants, and others with special needs.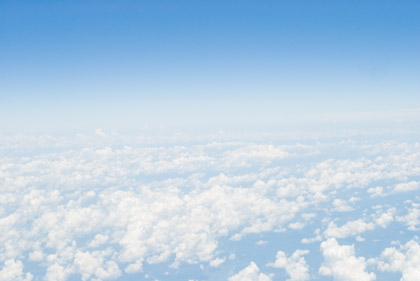 This, of course, is the view from the plane – somewhere over the U.S. eastern seaboard, between Atlanta, Georgia and Newark, New Jersey (we had a connection at Newark, continuing on to Logan International in Boston).
Before long, we arrived in Boston, Massachusetts.
Getting Acquainted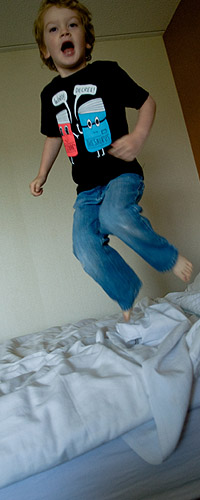 After we landed, we took a shuttle to the rental car facility. Very shortly after we got everything squared away and had packed the rental car, my brother, Jake, showed up (he missed us by a few minutes meeting us at the airport, so he took the same shuttle to the rental car facility to meet us).
We got on the road to go to the hotel and unload the car. Traffic was rough – rush hour on Friday. We finally made it to our hotel (which was not really close to anything – about 10 miles north of Cambridge up I-93). We chose an out-of-the-way hotel, in Woburn, because of the price (the amount we saved on the hotel was more than enough to pay for the rental car to allow us to get from Woburn to everything else). After being buckled into an airplane for a few hours and then in a car for an hour, Will was ready to expend some energy, as you can see from the photo on the right.
We decided to go to Cambridge Brewing Company for dinner, and Jake invited a friend of his to meet us there. We had a little difficulty getting to Cambridge because of the fact that our hotel was nestled in between I-95 and I-93. To make things more confusing, I-95 and I-93 have the same exit numbers in this area. Unlike other cities where you can tell you're on the wrong interstate because of the direction it runs (North-South instead of East-West or vice versa) or because the exit numbers are way out of range, in Woburn I-95 and I-93 both run North-South and intersect one another at exit number 37. That's right: the exit from I-95 to get onto I-93 is exit 37, and the exit from I-93 to get onto I-95 is exit 37. So naturally, we started down the wrong interstate in our journey to Cambridge. After some frustrating time had passed ("How could Google maps be so freakin' wrong!?!?!"), we discovered our mistake and were finally on the right way.
Dinner was good, and the place made a nice variety of interesting and tasty ales. Since we were in Cambridge, Jake walked home, and we drove back to the hotel.
Getting Around Town
Saturday was a busy day. We woke up and ate breakfast at the hotel. I think this was Will's favorite breakfast place because they had make-your-own Belgian Waffles and fresh apples – two of his favorites. After breakfast, we went to pick up Jake, and then we stopped at the Samuel Adams Brewhouse for a tour. After the tour, we ate tasty sandwiches and cookies for lunch at Flour Bakery, near the kid's museum.
Before we could eat, however, we had to find it. This would prove challenging as Boston has to be the very worst city in the country for driving around. The roads are not on a grid. At first, I didn't think this would be a big deal. After all, downtown Atlanta isn't on a grid either. But Boston is really, really not on a grid. Typically, in a city with a lot of one-way streets, the directions alternate: left turn only, right turn only, left turn only, etc… but not in Boston. If you need to turn left, you can count on coming across three right-turn-only streets in a row. You can also frequently count on a complete lack of street signs. Need to turn right onto some particular street? Then you better know what the intersection looks like because many intersections are signage-free. For many reasons, driving around Boston was a huge pain… So out of total frustration, we decided to park and just walk to lunch. Because we planned on going to the park after lucnh, we parked in Chinatown. It is centrally located: lunch to the southeast and the park to the northwest.
The restaurant was close to the kid's museum, but we didn't actually go to the kid's museum. Will had seen the one in Seattle, and they were similar enough that we didn't feel the need to go to another one. Instead, we walked around Boston. We walked a very short part of the Freedom Trail.
The part of trail we walked ended at the Boston Common park. We had walked around a good bit at that point, so we took a rest in the grass: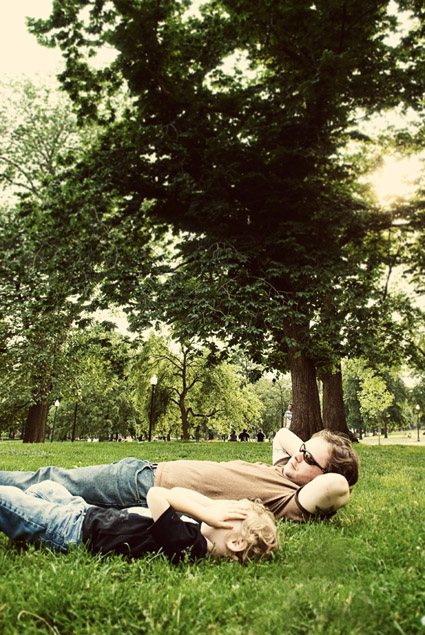 After our walk, we decided to eat dinner at a Thai restaurant near where Jake lives in Cambridge. We then called it a night.
Getting Into College
Sunday was Father's Day. To celebrate, we left the hotel to meet Jake for brunch at the Exchange Street Bistro. The place was pretty fancy but reasonably priced. The meal was good, but not perfect. The French toast I ordered was way too decadent. It was stuffed with (i.e. layered with stuff in between each slice of toast) peaches and blueberries, which were good. But it was also smothered all over with mascarpone – which tasted good but was simply too much. I think a light dollop of mascarpone on the top and some more conventional topping, like butter pecan syrup or maple syrup, would have been more to my liking. Malin ordered Crabcakes Benedict and Jake ordered Eggs Benedict. Their meals looked good (and from the few bites I had off Malin's plate, tasted good too). Unfortunately, however, one of the poached eggs served on  Malin's plate was way overcooked (it looked more like a hard-boiled egg than a poached egg – dense with a dry, chalky yolk instead of a runny yolk).
The rest of the day was spent in Cambridge, touring colleges for Will :)
First we drove over to the MIT campus and visited the MIT Museum. This place was very cool. The bottom floor hosts The Mark Epstein Innovation Gallery. The day we were there, this gallery included interactive exhibitions on MIT's City Car concept and their engineering contributions to oceanography. The latter featured a simulator allowing visitors to control a robot (an unmanned, remotely-controlled, undersea vehicle) that was, by far, Will's favorite exhibit.
Upstairs features a very large space with some very cool exhibits. The first gallery focused on robots. This gallery was a big disappointment: don't get me wrong, it was interesting. But when you have a three-year-old that has really gotten his hopes up for seeing robots, this exhibit simply couldn't fulfill that level of expectation. The robots were all behind glass cases, and none of them moved. Will was not impressed. The next gallery featured two exhibits: one on holographs and the other featuring intricate, mechanical sculptures/artwork from a mechanical engineer named Arthur Ganson.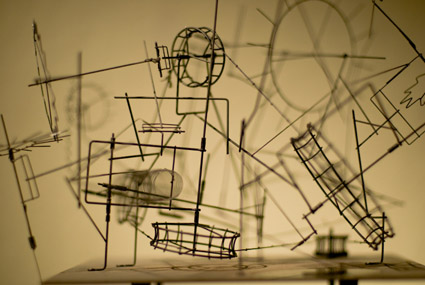 These sculptures are phenomenal. I wish I could describe them better. They ranged from spindly, wiry contraptions to elegantly moving machines, and all of them were very cool. You'll just have to check it out for yourself to understand what I mean.
After MIT, we visited the campus of Harvard University. The campus is quite attractive and makes for a nice walk. We walked past the library and the law school and took pictures of ourselves on the steps in front of the buildings: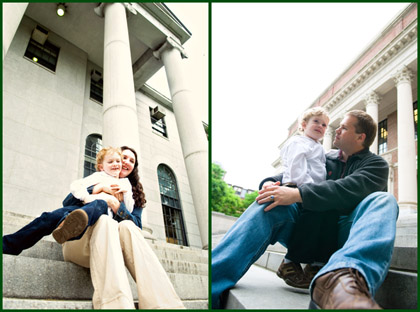 We were also obliged to visit the statue of John Harvard – and rub his toe for good luck: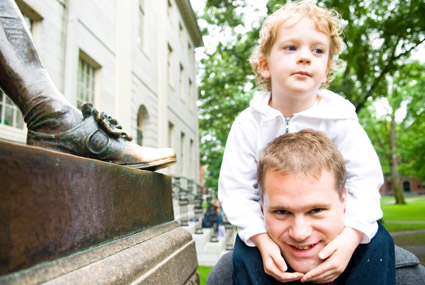 In one of the buildings (can't remember which) they had a very old mainframe on display – one of the first big computers, complete with a large array of knobs for defining the inputs to your program (in decimal) and a punch card reader. Will was mesmerized by it, wondering, "How does one play Lego Star Wars on this gigantic contraption?"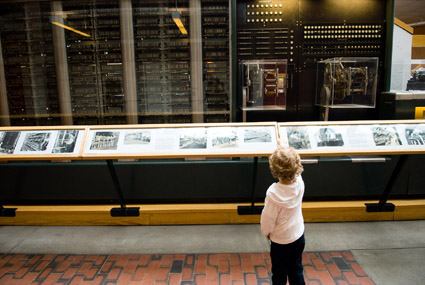 After a thorough trip through campus, we finally decided to meander back to our car. During the walk back, Malin snapped this amusing shot:
Will fell asleep in car on our way to dinner. This night we stopped at a staple for tourists visiting Boston: Legal Sea Foods. It was okay. The food was decent, but overpriced. It reminded me a little of Cheesecake Factory… Will woke up just in time to eat some dessert. After dinner, we called it a night.
Getting To Waltham and Back
The next day, Jake had to work. We were to pick him up from work in the afternoon. There was shops and such at which Malin wanted to shop, so we drove from the hotel down to Cambridge for some shopping.
The first stop was supposed to be a quick stop at IHOP. We had an extremely aggravating battle with squirrelly roads, unlabeled streets, and traffic. It took forever to finally find the place, and everyone was thoroughly irritated with one another by the time we finally got out of the car (both from hunger and from arguing about how the hell to get to the restaurant). Big honkin' stack of flapjacks to the rescue!
The next stop after breakfast was a vintage fabric store. Will and I played at a really cool playground (the Gore Street Playground) while Malin searched for cool material.
After that, we drove up to Somerville to hang out at Davis Square. There were several shops that Malin wanted to visit. We rounded out that trip by picking up some desserts from a place named Kickass Cupcakes. With a name like that, how could we not go in?
We split one of our cupcake acquisitions in the car on the way to go pick up Jake from work.
We then had even more fun with the Boston area roads. For instance, on-ramps from the surface streets in Boston onto I-90 are very poorly marked. Many of the signs don't even indicate that it is an interstate – they say "Massachusetts Turnpike" instead. We never did exactly figure out the next steps. We had directions, from Google maps, for getting to the Watch City Brewing Company. We got off the interstate and then went in search of the streets it indicated – to no avail. We finally decided to just drive around, taking streets that lead us in the right direction. We did finally cross a street whose name we recognized from the directions, and we were able to get to our destination from there.
Watch City had a tasty selection of ales and quite good french fries. After a short time there, we were off, back to Boston. Our destination this time was The Barking Crab for a spot of dinner. Dinner here was good. I think it was just as good as Legal Sea Foods, but a little more reasonably priced. I also really liked the fact that they didn't take themselves too seriously here; the restaurant was much more casual than Legal Sea Foods.
After dinner we drove to the North End – home to Boston's Little Italy. We parked and walked around. It was very crowded, and there were a slew of restaurants that all could have made great dinner destinations had we not just eaten. On the recommendation of a co-worker who used to live in the Boston area, we made a stop at Mike's Pastry shop. Will and I split some delicious gelato, and Will and Malin split some chocolate-dipped, puffed pastries.
At that point, it began to rain, so we called it a night. We said our goodbyes to Jake, since he'd be at work the next day when we'd be on our way to the airport.
Getting Ready to Leave
Tuesday was our last day there. We had some time, however, before we had to get to the airport to leave. So we revisited a few places in Boston before going home.
Our first stop was the Boston Public Gardens. Here we are, standing at the gates just outside the gardens:

While in the gardens, we took Will on a swan-boat ride. I do not recommend this. It is a very short, boring, slow ride around the pond. You'll have just as good of a view, if not better, for free by simply walking around the pond. After the boat ride, we did just that:

After a swan-boat ride at the gardens, we drove back up to the North End to get a daytime view of Little Italy. We walked around and got a delicious sandwich from a Salumeria. Will and I decided to wait outside while mother dearest went inside to grab some grub: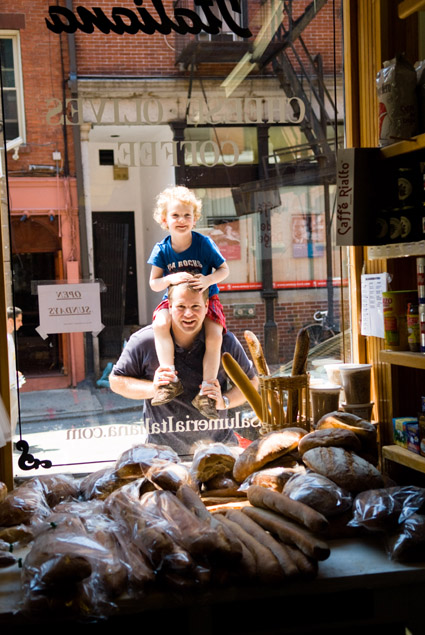 Will didn't care for the sandwich, so on the walk back to the car we let him pick out a slice of pizza from a deli/bakery that was on the way: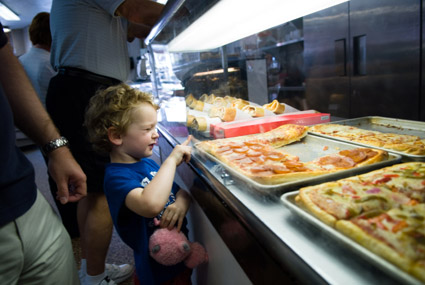 Getting Home
Our ordeal getting on the plane back home was even more stressful than on the way up to Boston.
First, we had to return the rental car. This should have been easy: our paperwork from the rental car facility even had a photo with arrows on it. Unfortunately, I found the text beneath the photo – pertaining to when I would see this – to be a little confusing. So I ended up getting off the highway too soon. Then, after arguing a little bit about how the heck to get to the place from the surface streets where we now found ourselves, we headed off and did, in fact, manage to find the place.
A quick shuttle to the airport and we were ready to go! This time, we knew to check-in at the Continental counter, not Delta. Their kiosk system wouldn't accept my e-ticket number, so I had to ask for assistance. The woman that helped us informed us that our flight was a little late. That meant we would miss our connecting flight (through Newark again was the plan) and have to take the next one which would put us back in Atlanta about three hours late. I was visibly irritated by the situation so the lady did a little extra to help: she moved us to a direct flight on a Delta plane that left nearly an hour earlier than our original itinerary (we were early, so we figured we could make it without a problem).
Unfortunately, we had to walk over to the Delta counter to check-in. We were able to check-in at a Delta kiosk, but unable to choose seat assignments. This was bad news because none of our seats were together – the boarding passes had us spread out all over the plane. So we decided to rush to the gate to get the seat assignment fixed before the plane took off.
Naturally, as Murphy would have predicted, we hit another snag: Malin and Will got tagged for the "extensive" search at the security line. So we had to wait a bit longer than everyone else as Malin had to stand in a big, dark box that scanned her. And then they had to open all of her carry-ons and inspect everything. They were rubbing around the luggage with a tissue and then running the tissue through a scanner (I assume to check for dust or residue that would be left behind had we packed explosives).
Just as the security folks were finishing their scans, Will's backpack broke. The zipper completely failed. Malin had to clutch it tightly to prevent its zipperless opening from dropping all of its contents as we hurried to the gate. As we arrived, boarding was about to begin. I was pretty pessimistic about our chances of getting our seat assignments fixed this late in the game… Luckily, I was proven wrong. The lady at the gate heard our situation and printed new boarding passes in the blink of an eye. Just as we were handed our new boarding passes, the call to board the plane was issued. We immediately jumped in line and had a smooth ride home.
Leave a Reply