Dec 15
I am incredibly behind in my blogging. Most notably absent are write-ups of our family vacation to LA in October and of our Halloween experience this year.
But when I was collecting photos to post with those write-ups, I found some other stuff that could go on this blog. So this is part 1 of 5. These posts will be mostly in chronological order – so the oldest photos are found below. There will actually be a part 6, but I'm hoping that won't be backlog. By that point in time, we'll have finally found ourselves caught up and will be posting recent photos – like the adventures of Gimpy and Grumpy the elves.
This post really contains the miscellaneous photos that weren't associated with any particular event – around the house, here and there, this and that… That means there aren't as many words associated with these pictures. There isn't really a story to tell or a trip or other tale to recount. So this might be the shortest in this series – which is probably good since it mainly consists of all of our funny-looking mugs, which some of you may be tired of looking at :)
This image is one that Malin took of herself over a year ago: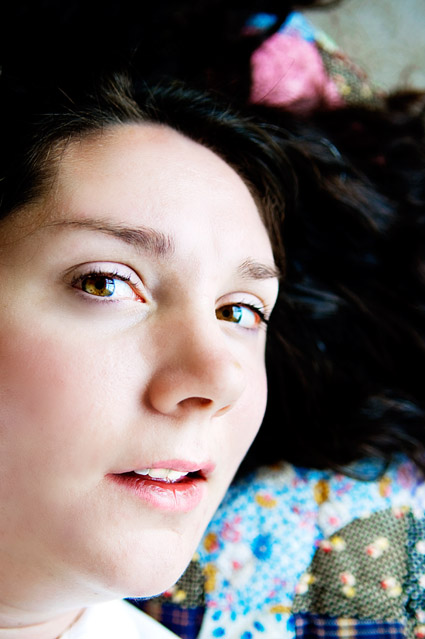 More recently, she needed a self-portrait to use with press releases. The two below weren't actually used in print, but I thought they were good. I actually clicked the button on the camera. But aside from that most mundane of actions, I had nothing to do with the photography. Malin setup the lighting, the camera, and the idea in advance and just needed my help actually capturing it: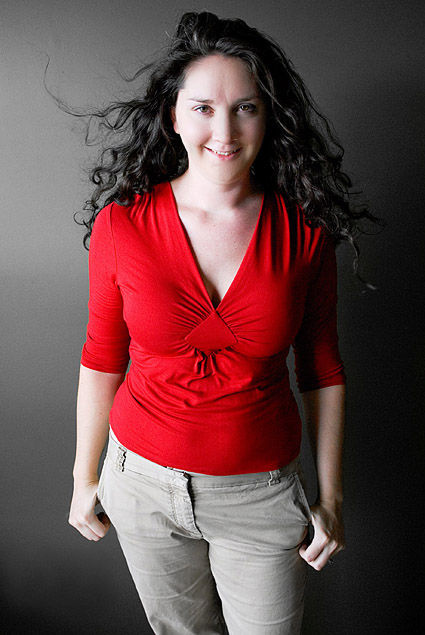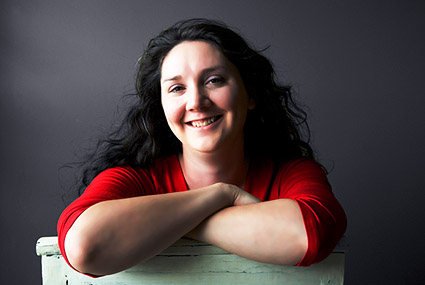 Speaking of Malin's photography, this is a cool picture that she snapped from our front yard after a rainstorm – a wicked-looking double rainbow: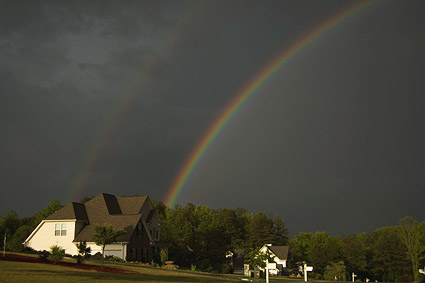 Here's another photo that she took of Will last Fall. He helped her draw the angel wings on the pavement with sidewalk chalk – kind of like a "rock'n'roll" angel, eh?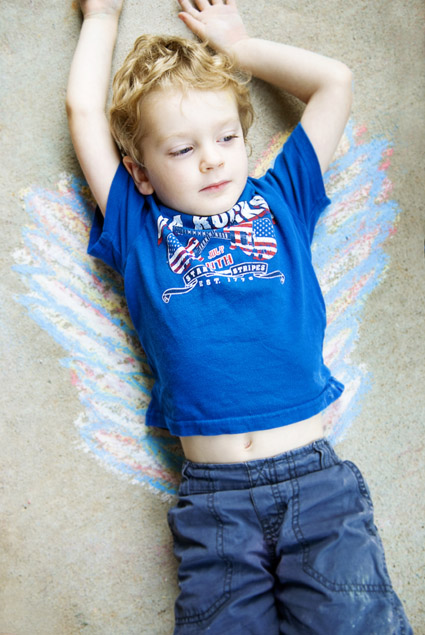 What post of portraits would be complete without one of yours truly? I think we have lots of pictures like this since I am often the guinea pig for Malin's test shots. If she's playing around with some new setting on her camera, a new idea for lighting effects, or a new lens, I am usually the subject. I don't know if there was actually any photographic experimentation going on for this pic though.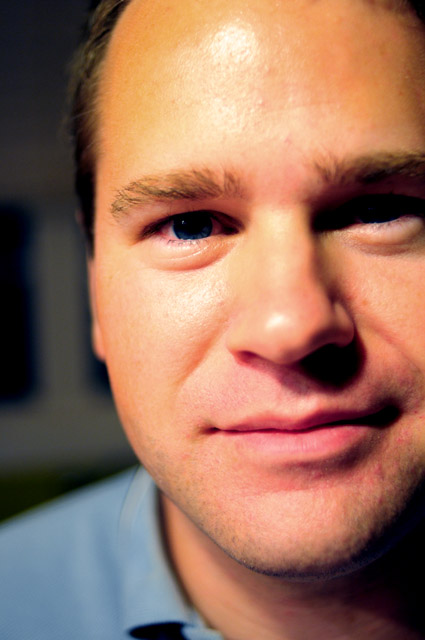 This recent one shows me beating Castlevania for Will. He occasionally likes to play the game, but he prefers to watch since he gets frustrated with his own still-developing levels of fine motor control. Having said that, he's gotten pretty good at his latest video game acquisition (Lego Indiana Jones).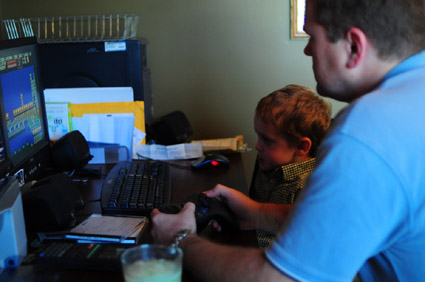 And last, but certainly not least, are some images of Will's toys. My brother-in-law Cass got him a Super Grover construction set when we were in Los Angeles this year. The set comes with extra pieces, and you can assemble everything to look like Super Grover or in crazy ways to look something else.
This was Will's favorite creation: Darth Grover.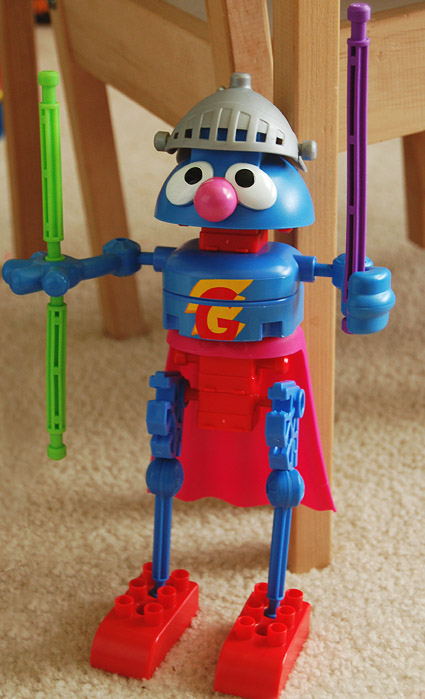 This might be his second-favorite: R2-Grover.
More recently, I bought him a Snap-Tite model of a Star Wars spaceship. As it turns out, he isn't quite ready to build these. I didn't realize just how small some of the pieces were and how much manual dexterity in your hands was needed to snap all of the pieces together. I knew he wouldn't have the patience or reading ability to follow the instructions, so I was prepared to help out a lot. I think the age recommendation of 8 years old is a bit old, however. He'll probably be putting these together himself by age 6. So he helped me sort out the pieces, and I let him help with some of the snap-together assembly where I thought he could. He mostly played with the plastic Jedi figure that came with it while I assembled.
The finished product, sitting on our space-age carpet – designed to resemble the lunar surface of Kashyyyk: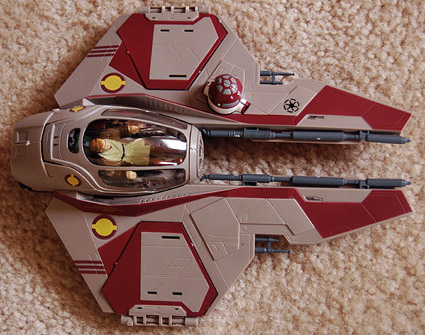 That wraps up this episode of the photo backlog.
Please stay tuned for the next episode: Independence Day 2008.
And now, you're moment of zen: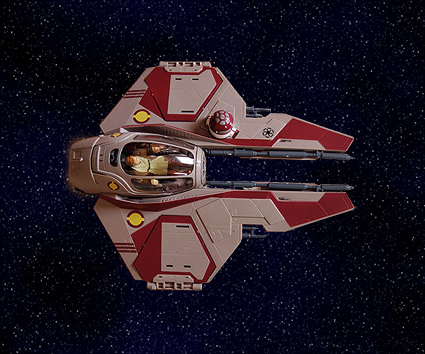 2 Responses to "Photo Backlog, Volume 1 – Odds and Ends"
on December 17, 2008 at 12:42pm

Dude, everyone knows that Kashyyyk is heavily forested. I mean, come on! :-)

on December 18, 2008 at 9:50pm

I think you're thinking of the terrestrial surface of Kashyyyk being heavily forested.

The lunar surface, on the other hand, is covered by moss that greatly resembles builder-grade beige carpet. Imagine that!
Leave a Reply