Dec 24
Finally! It has been over two months since we returned from our week-long adventure to California, and a recounting of our trek is finally available. There are a lot of photos, so the meat of this post is after the jump.

Flying West
We left on a Friday, one week after Will's last day of school for the term and my last day of work prior to my sabbatical.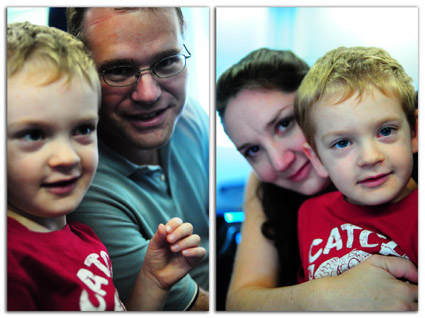 Our trip out west was on a Song aircraft, so it had the entertainment units built into each seat: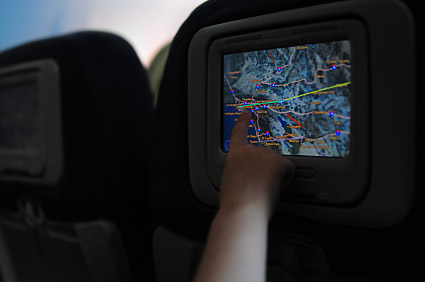 We got settled quickly after we arrived. My sister picked us up from the airport and drove us to her place. I had sent a package to her and Cass earlier that week, and the tracking info said it should arrive the very same day that we landed. When we got there, however, we discovered it was not there. The package was a box packed with many homebrews.
National History Museum
On Saturday, we had a big day out – at the museum. Kristie and Cass had gotten a zoo keeper outfit for Will when they were last at the Santa Barbara zoo, so Will wore it much of our week there. He hesitated in putting on the jacket at first – not sure why. But he wore the hat and binoculars to the museum.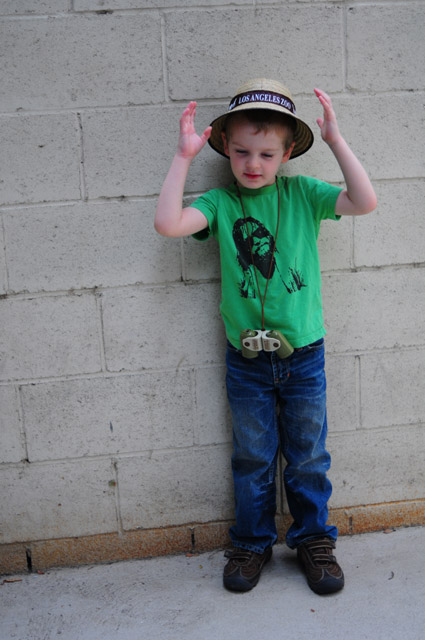 There were a bunch of USC fans tailgating as the National History Museum is just outside of campus on its southern side.
The museum had two special interests that attracted us (Will): dinosaurs and spiders.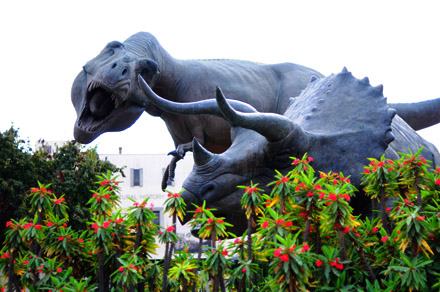 The first set of dinosaurs, aside from the display out front in the above picture, is in the main foyer. And it is quite a spectacle. It reminds me of the great room at Atlanta's Fernbank museum – which also has a towering set of dinosaur skeletons.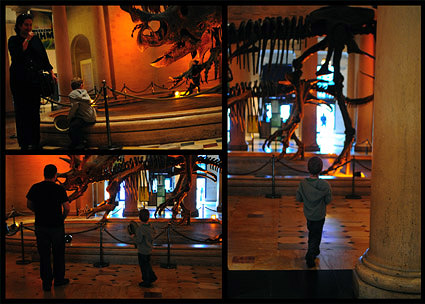 Will helped Cass give a small token of appreciation to the museum. Donations are fed into the dinosaur mouth: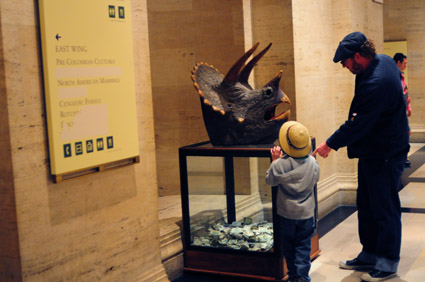 Our first stop, after the grand display in the foyer, was the land of spiders. Outside the main spider exhibit, they had all of the nasty, poisonous arachnids on display. Will was keen on inspecting each and every one: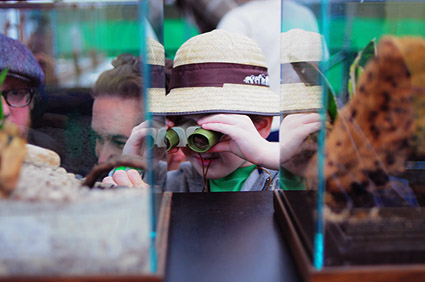 The main exhibit inside was awesome. Arachnophobes need not enter. It features numerous spiders, many quite large, freely running amok in a large outdoor space. You walk under their webs, you can see them in the bushes, and you have to be careful not to walk right into some of them. No glass walls protect them from you (or you from them). I think Malin and K were a little freaked out. Cass and Will enjoyed it thoroughly. I thought it was pretty awesome, too.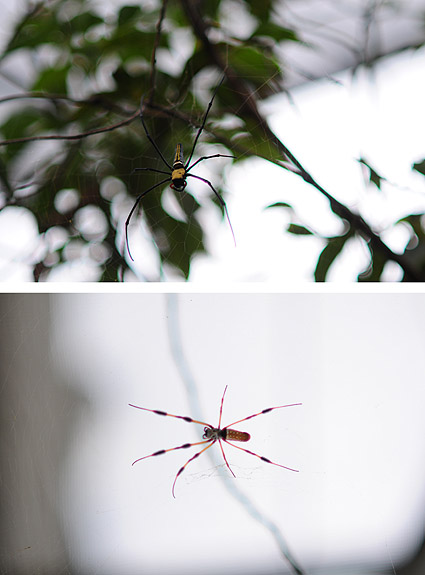 Malin found the molted exoskeleton of a grasshopper among the bushes and webs: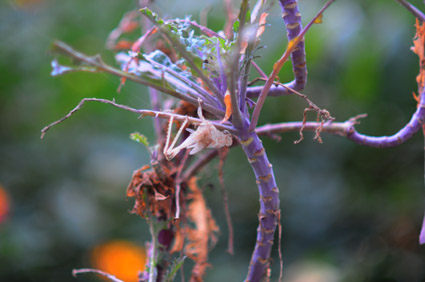 After the spiders, we visited the halls of mammals, of which there are three at the museum.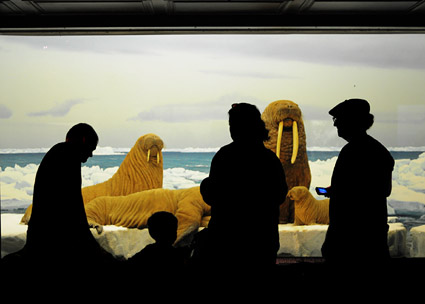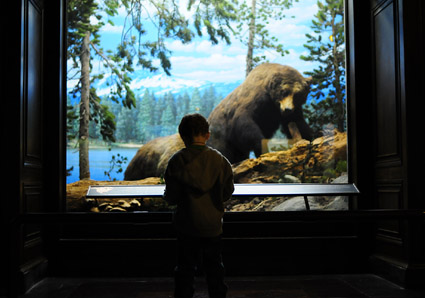 They also had a really cool exhibit of birds, including this fellow with the ridiculously long beak: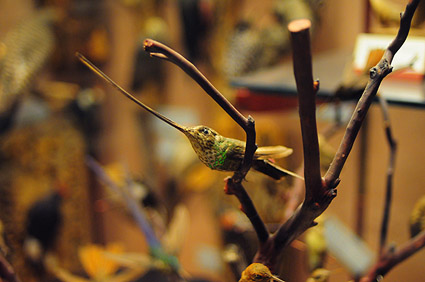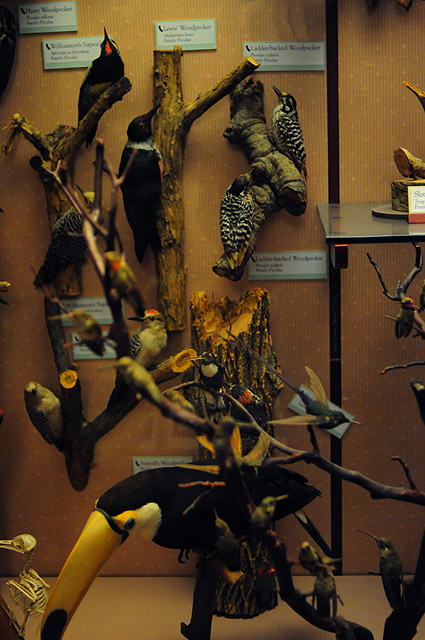 There was a section on marine life, including some very large fish. This is a picture of an incredibly huge nautilus (> 6ft tall) that defends the entrance to that wing: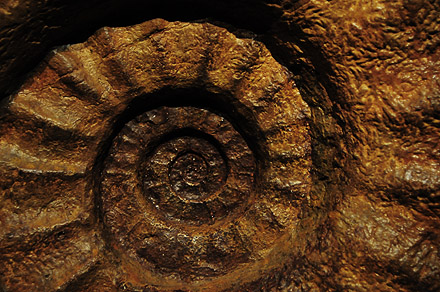 Last but not least was an exhibit about the restoration process for dinosaur bones and fossils. They had an actual restoration lab in there with windows so you could see inside and watch the people work.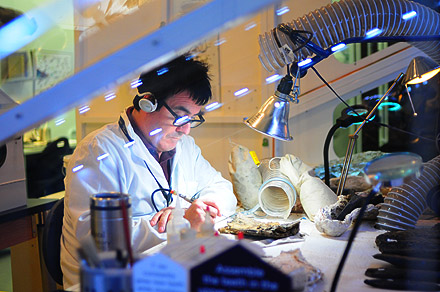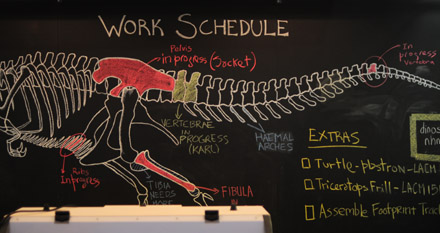 On our way out, Malin noticed how cool the water fountains were. It looks like you could perform a baptism/christening in one: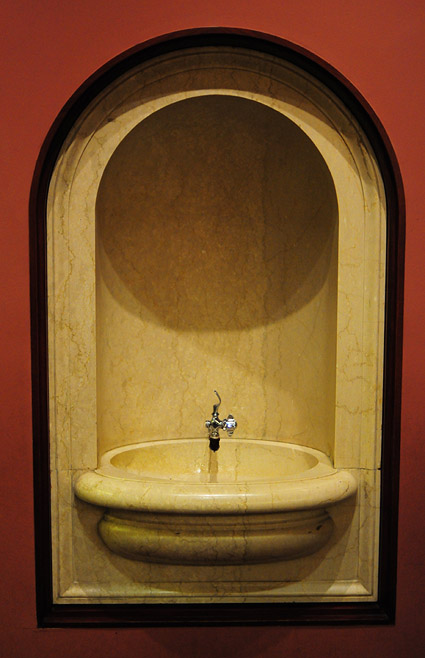 On the outside, we had one last set of photos to take – of the giant tiki head, similar to the heads on Easter Island: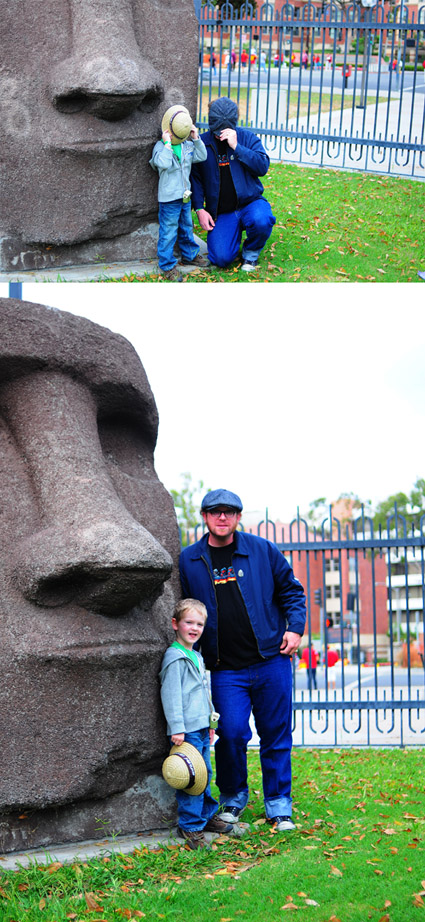 Olvera Street
The next day, Malin, K, and I went for a walk through an art festival in North Hollywood. It was pretty uneventful and boring, so we decided to go somewhere else. We ended up going to Olvera Street, looking at shops, and eating good Mexican food for lunch. Warning to tourists: Olvera Street restaurants are expensive. Unfortunately, Will was behaving rather poorly at lunch time, so we left in a bit of a hurry. So we weren't able to grab a Mexican wrestler mask while there (of which there were plenty available).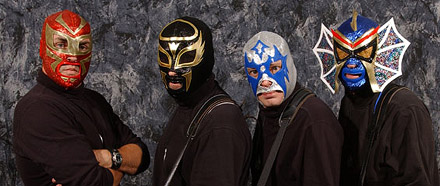 The Zoo
The next day, Kristie had to work. So Cass took us to the zoo.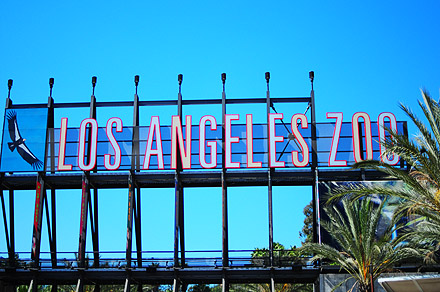 You can see that Will finally decided to wear the jacket that was part of his zoo keeper outfit.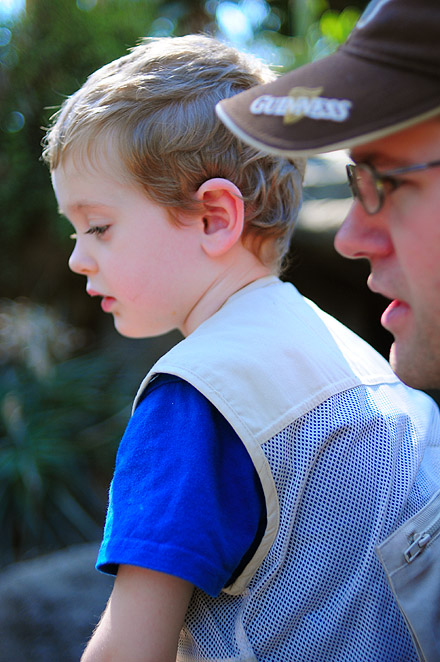 One of the first animals we encountered was a meerkat, sleeping in the shade.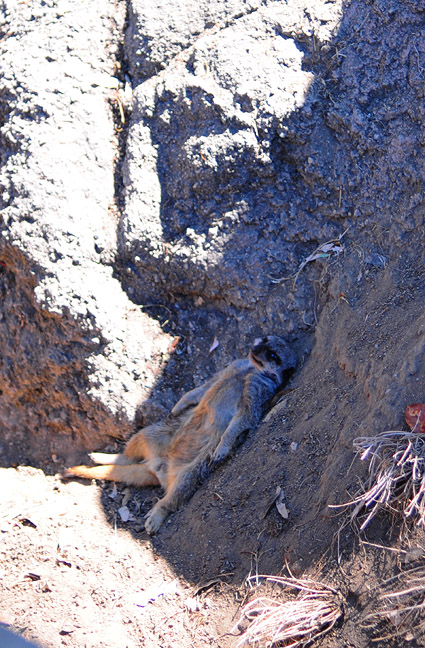 The zoo had all manner of animals, from alligators to lions and sea lions to ibex. Here is a quick montage. Men, try not to be too intimidated by the zebra.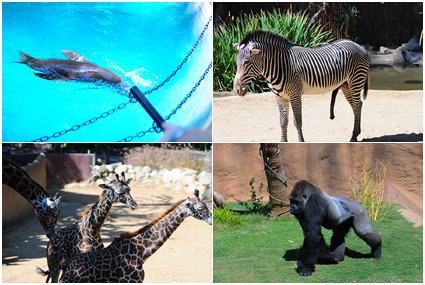 Cass told us how the tallest male giraffe occasionally wanders to one side of their enclosure and does his best to feed off of a very tall tree using an amazingly prehensile tongue. While we were there, we got to see this endeavor in action.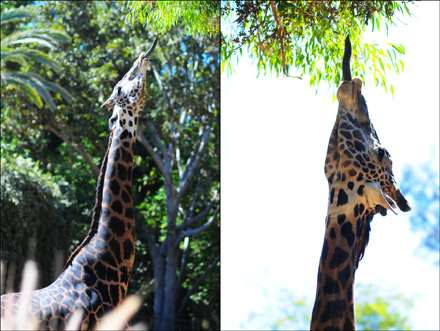 There were also a very fair species of ungulate named Gerenuk (sound like made-up words from a viking poem, don't they?)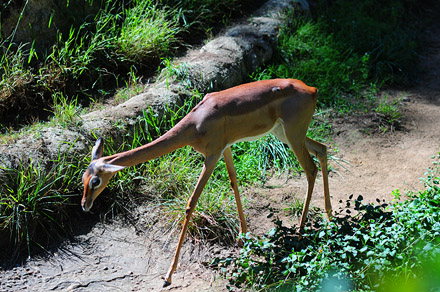 What would a trip to the zoo be without apes? They had many apes, but the best photos we got were of chimpanzees: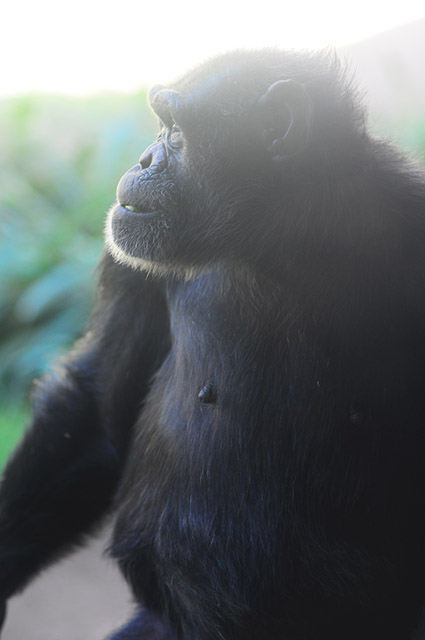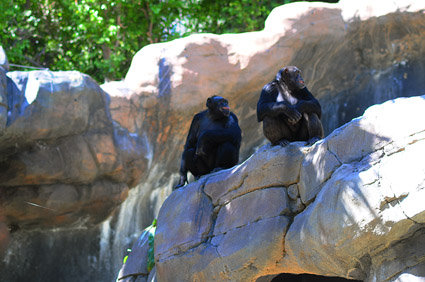 On the way back out, the meerkat had finally woken up: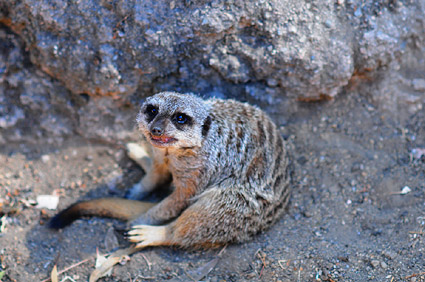 There was also a petting zoo. Before leaving, Will got to pet the goats and sheep that were there. We got one last picture – Will and Cass standing outside the petting zoo: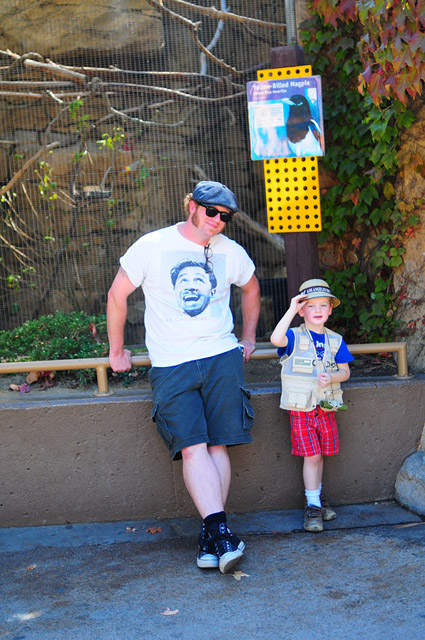 Unbirthday Party
The next day, Cass and I went to the UPS facility to pick up the homebrews. They had not been delivered on Monday either and were waiting for us at the facility. That evening, a friend of Cass's came over to help us sample some of the homebrews – which was fun for me since, even though I made them all and have tasted them all before, they tasted better and new with a few months age.
During the day on Tuesday, we had an Unbirthday Party: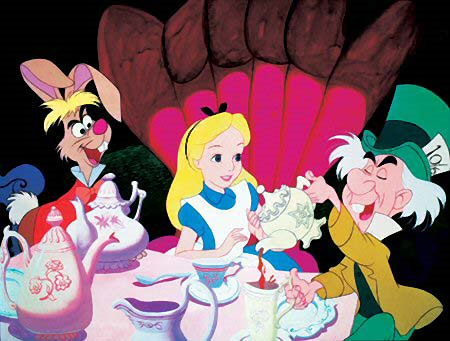 Ours was held at the Travel Town Museum – a large field with old steam engines and train cars in it. Will had lots of fun wandering around the trains.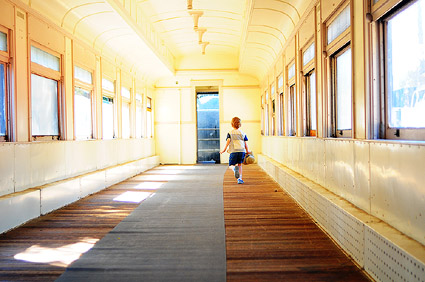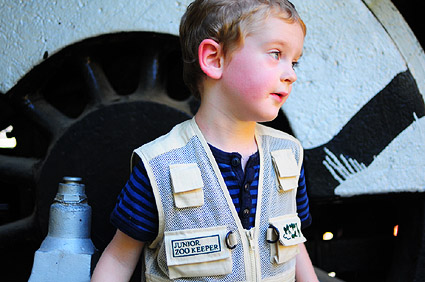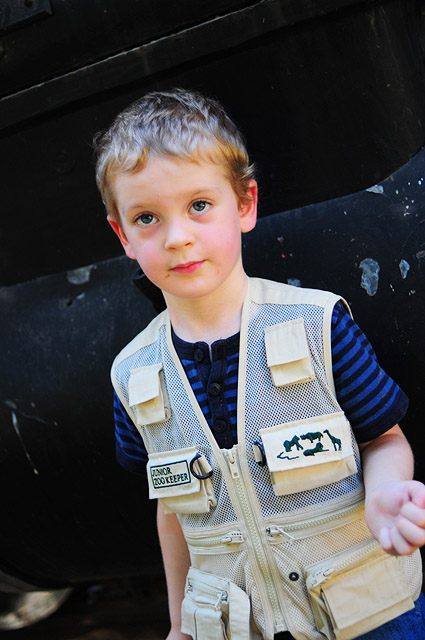 After playing in the train cars, we sat down at a picnic bench and ate lunch. After lunch was the obligatory balloon animals. It is an unbirthday party after all! Instead of animals, however, we made things like helmets, swords, and small intestines: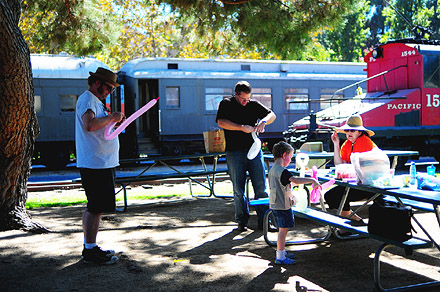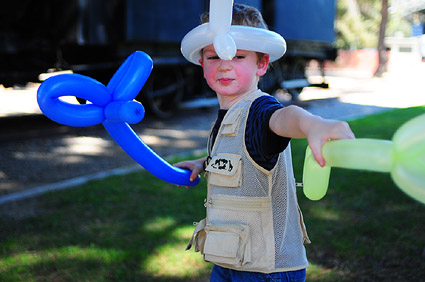 Before the picnic was finished, we had to have cake. It is an unbirthday party after all! Will calls it "red vulva" cake. Red Velvet is how most of us might refer to it: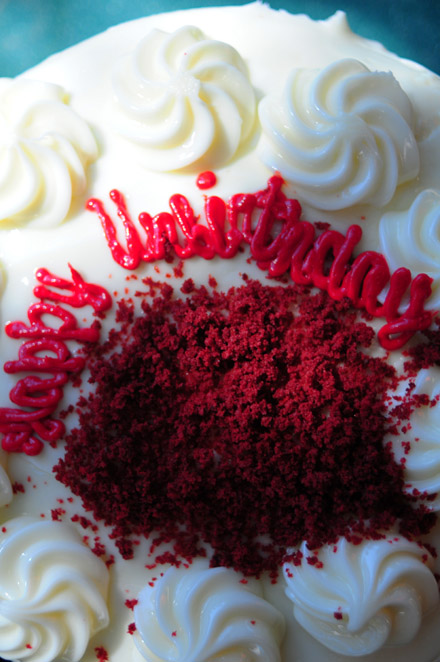 After the picnic and balloon-sword fencing, we took a trip around the museum on their miniature locomotive: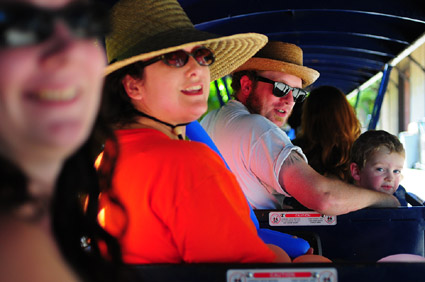 When the tour rode around to the back of the park, we could see a train car with a wonderful exclamation painted on it.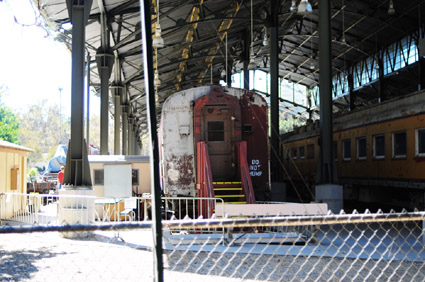 Before we left, we got one last picture – this one of all five of us: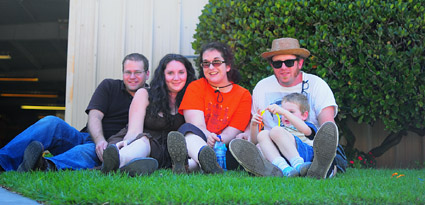 Santa Monica
On Wednesday, we decided to drive to Santa Monica. Cass had some things to do, so K accompanied us and drove us about. We first hit up some shops along with way. Among other things, we got Will some cool, new, blue shoes – his LA Shoes. Unfortunately, I don't have a picture of them when there were still new and clean, but there is what they look like today: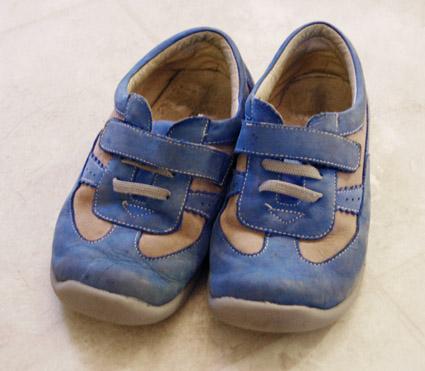 We went to the main pier at the Santa Monica Beach, had some ice cream, and rode on the ferris wheel.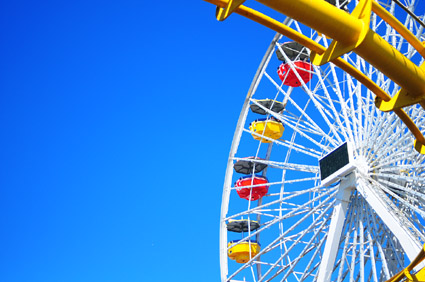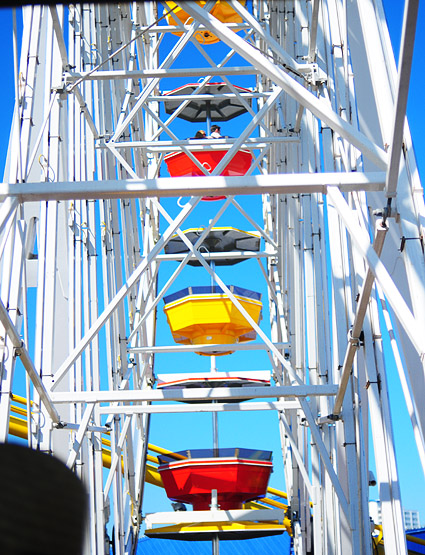 The main point of going to the beach was for Malin to get a shot of the sunset: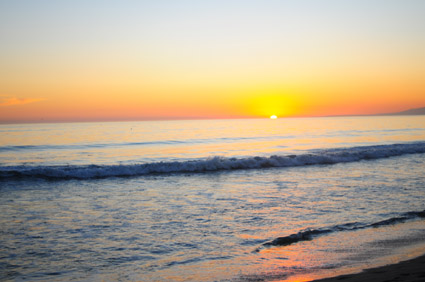 Will was misbehaving on the beach, running off, not listening to us, and so forth. So he was looking pretty glum at this point.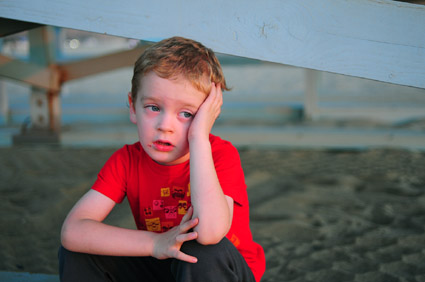 After the beach, we went to do some more shopping and eat some dinner. We ate at a small bar/restaurant called The Library Alehouse, which served decent food and a had a nice selection of beers – from California and otherwise.
There were some cool murals on the walls in the area, too: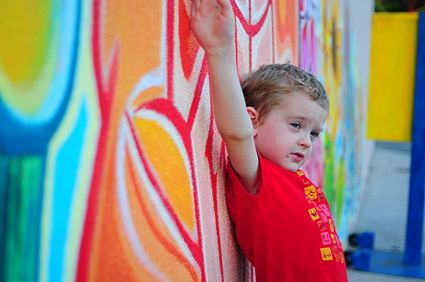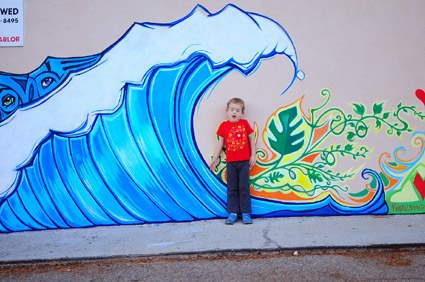 Sushi With Uncle Uncle
On Thursday, we went into LA to visit Little Tokyo. While there, we visited a Japanese bookstore, and we also went into a Japanese market. Will got some interesting/odd Japanese toys from the market. We also got the obligatory pack of Pocky.
That evening, continuing with the Japan theme, we had a delicious dinner at a nice sushi restaurant. Cass's uncle came to dinner with us. Cass and K just call him "uncle", so we figured Will could call him "uncle uncle." So we ate dinner with uncle uncle. Will did pretty well, but eventually got quite bored. So he climbed under the bench (our table was against a bench, so half the party sat on the bench and the other half across the table in chairs) and began playing with the arrangement of rocks thereunder.
Returning to Atlanta
The next day was are trip back home. Cass and I dragged a box of stuff that wouldn't fit into our carry-on suitcases (we never check luggage) to a shipping store to have it FedEx'ed home.
I also had a bunch of interesting and rare brews that I bought while in LA. But we didn't have boxes and packing material on hand to safely send them on their way, so Cass offered to pack them up after we left and send them to us.
The trip home was uneventful.
Post-Trip Activities
The day after we got back was Saturday. That evening, friends of mine from college visited us: Desmond, his wife Jessica, and their one-year-old daughter Alexis. They left the next morning to the airport to go on their own sort of vacation in Florida.
The following week, we drove through the Carolinas. We spent a couple of nights with my parents in Greenville, SC. We also visited Durham, NC to see our friend Audra and her husband Jon. They had just had a newborn baby daughter named Madelyn. Finally, we had a stop in Charlotte, NC to visit with some of Malin's relatives and to see Desmond and company yet again.
Our night at Desmond and Jessica's house was fun. We played Rock Band 2 on their PS3, and Will had a lot of fun banging on the drums. Surprisingly, as much fun as he had at Desmond's and again at Best Buy playing Rock Band, he has yet to ask for a copy. But we won't be surprised when he does.
Stay tuned for the next and final chapter of the photo backlog – Halloween. It will be a much shorter post than this one, so it should go up pretty soon.
Posted by Josh on December 24, 2008 at 4:02pm
Leave a Reply