Dec 24
This year, the week before Halloween, we went to Uncle Bob's Pumpkin Farm in Newnan again – a yearly tradition. They have a petting zoo, a hay ride, and some other interesting stuff. They also have a really lame corn maze: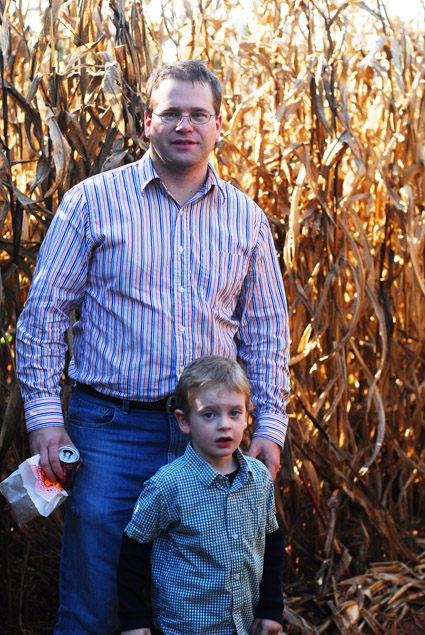 We bought a few pumpkins while we there – for jack-o-lanterns, for pumpkin pie, and for making pumpkin beer (the lattermost, unfortunately, never came to fruition).
This year, all of us dressed up. I haven't really dressed up since when Malin was pregnant with Will. My costume was admittedly pretty lazy and lame: khakis, leather jacket, button-down shirt, and a cheap prop hat and whip. Yes, you guessed it: Indiana Jones.
Malin spent a little more time on hers; she actually made a big cloak. Will wants her to make him one next year so he can dress up as an evil-doer like mommy.
This year, Will was a storm trooper.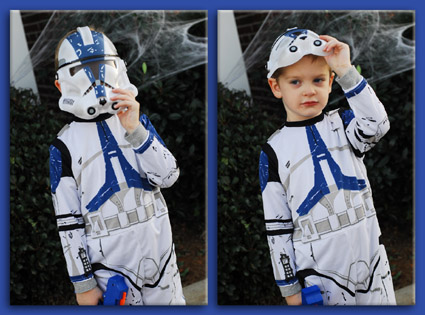 We got a couple of pictures of me and Malin, too.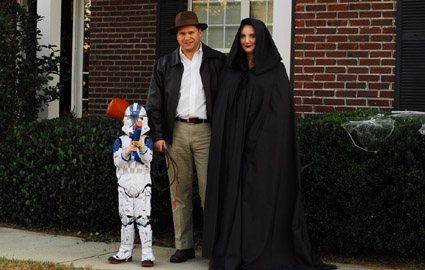 In this pic you can see some of the house decorations – at least the three ghosts in the front yard.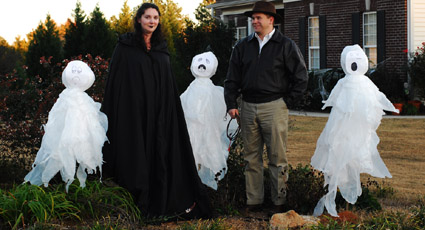 That Sunday, Will helped to make pancakes, and he wore his Halloween apron – a gift from his grandmother Frannie.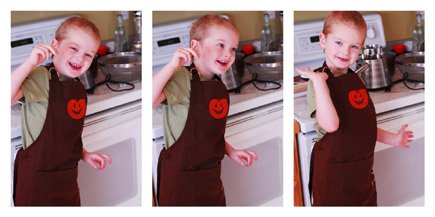 Thus concludes the photo backlog. I think I'm pretty much caught up as far as posting pictures to this blog.
Stay tuned for Christmas pictures, which will hopefully be up before the end of the year.
I hope everyone else is having a pleasant holiday season and preparing for a great 2009.
One Response to "Photo Backlog, Volume 5 – Halloween"
on May 17, 2012 at 10:41am

I really like your photography. I remember having a stormtrooper costume like that when I was growing up. I know that that the one that your son has is a clonetrooper, but I grew up when episode 6 and 1 was coming out, and they only had stormtroopers back then. Your pictures really brought back some of the best memories of my childhood. Thanks for sharing.
Leave a Reply