Jan 05
Christmas
The Monday before Christmas, we did our celebrations and exchanged gifts with Malin's mom and Randy. They would be with Randy's family on Christmas morning, so came over to celebrate with us a little early.
Will loves opening gifts.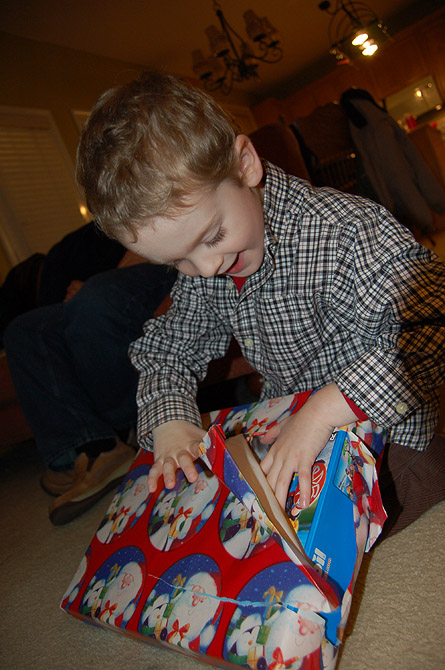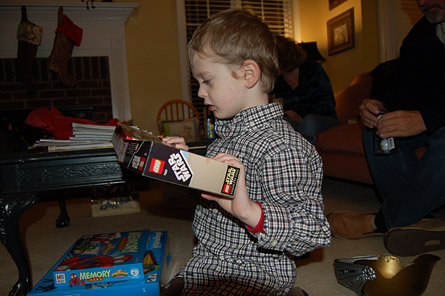 Especially when they contain anything related to Star Wars, Indiana Jones, or Batman…
My parents and my brother arrived on Christmas Eve. The next morning we all awoke to see Santa's handiwork. After making short work of ripping through Santa's presents, we moved on to the general exchange, during which Will made out with even more loot.
His grandparents got him a really wicked Darth Vader action figure – complete with battle damage (but no hole into which you could pour motor oil or grapefruit juice, no dispensor fist…). They also gave him a video game to which he has been addicted ever since: Lego Batman for the Wii.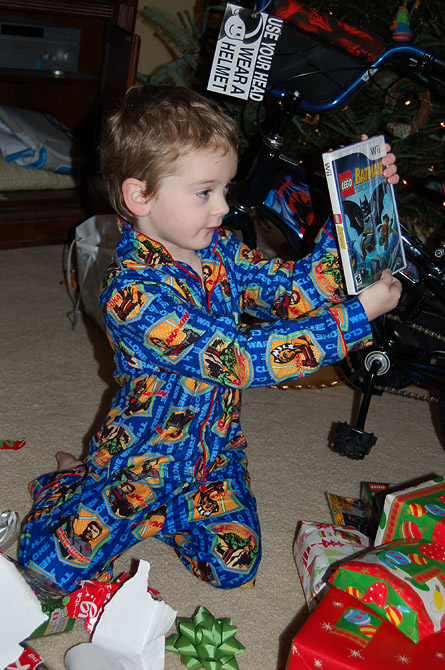 Malin got him a Yoda action figure. After all, every plastic figure villain needs a plastic figure hero upon which to whoop ass, n'est-ce pas?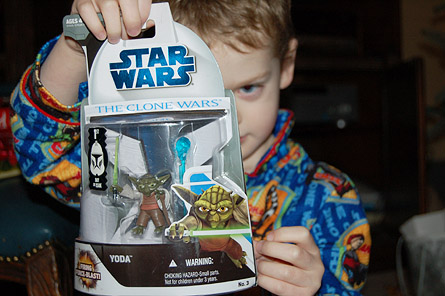 Malin and I also bought Will this Georgia Tech baseball cap to match mine: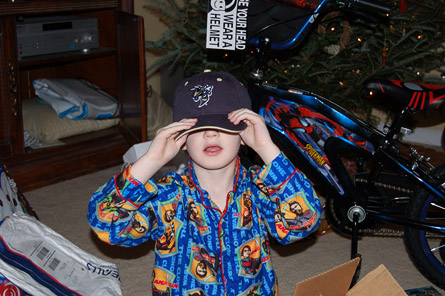 The three things that Will asked Santa Claus for this year were a bicycle, "knight" Legos (more formally known as Castle Legos), and a knight costume. Here you can see him trying out the bicycle: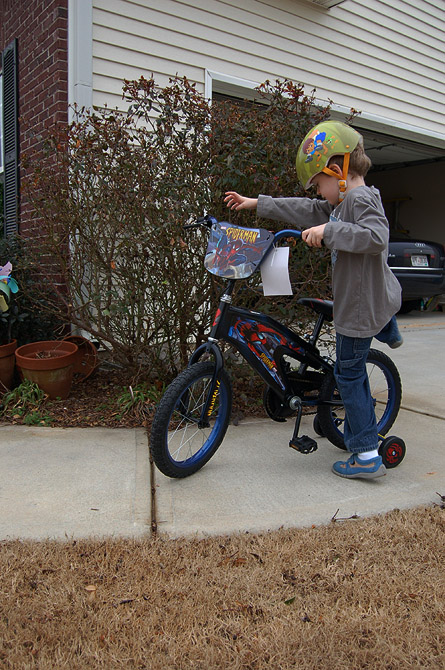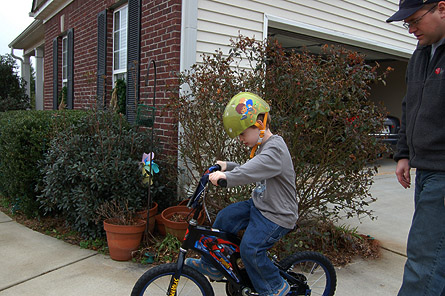 Santa brought him the Legos, too, but the costume was actually a gift from Malin's mom.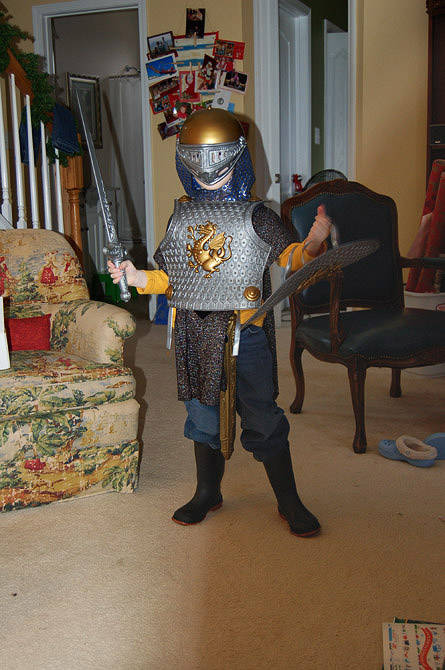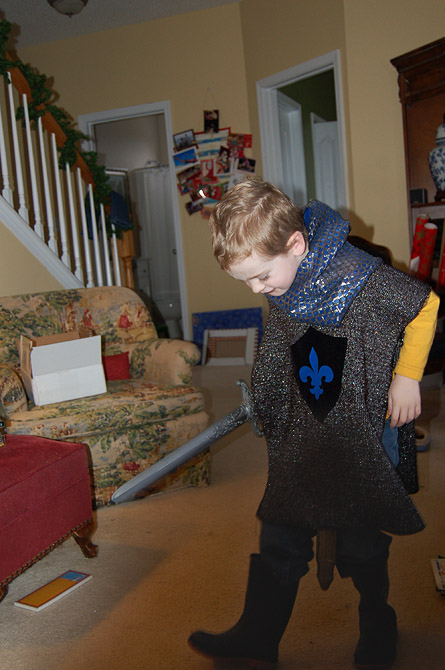 Who knew that one of his favorite hobbies would be mixing and matching the heads, helmets, bodies, legs, and accessories of the Star Wars and Castle Legos? It's a fun hobby yielding memorable characters like the evil jousting goblin that wears a stormtrooper helmet (I'll have to get a picture of that guy and post it here, won't I?).
After exchanging gifts, we ate breakfast: a French Toast casserole, scrambled eggs, and sausage links. Ann made it over for breakfast, and Randy came by after finishing Christmas with his family. They joined us, along with Jake and my parents, for Christmas dinner.
Dinner this year consisted of three courses:
Carrot Soup
Fresh hand-made fettucine with a brown butter demi-glace sauce, shitake mushrooms, and pearl onions
Roast leg of lamb with potato croquettes
Sick Weekend
We were supposed to drive to Greenville, SC the weekend following Christmas. My parents and brother retreated to Greenville the day after Christmas. In addition to visiting with them some more, we were hoping to see our friends Audra and Jon and their young daughter Madelyn.
The night after Christmas, Malin, Will, and I went to see The Tale of Despereaux. The movie was decent – better than I expected.
The following morning when were to get ready to leave, we ended up not being able to make the trip. Malin wasn't feeling very well, Will's never-ending cough was a little worse, and I felt like complete garbage: a bad cold resulting in a sinus infection – complete with a sore throat and ear ache.
So we stayed home that weekend, trying to recover. Unfortunately, I felt like crap for pretty much an entire week. I finally started to feel better just yesterday (Sunday the 4th). Sorry everyone. We really wanted to visit with everyone, but just weren't up for the car ride, and probably wouldn't have been much fun in the shape we were in.
The Empire Struck Back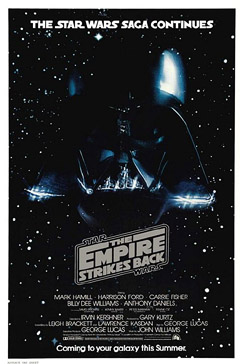 The next Tuesday – December 30th – Malin was feeling rather gracious. Despite her hesitance to let Will see the first Star Wars movie (she was quite upset at me when she found out that we had watched it one night after she went out), she allowed the viewing of the sequel: The Empire Strikes Back – arguably the best movie out of all six that were made (I would argue that anyway…)
Will was bedazzled by the plot twist. The realization that Darth Vader was Luke's father – that Anakin and Vader were one – was a total head game. Okay, perhaps I'm putting words into his mouth. But he enjoyed it immensely. Until bedtime…
That night and the following night, he kept us up for hours. He would begin screeching and crying in his sleep. He would wake up from the nightmares and come wake us up. Malin was up with him between midnight and 3am the first night, consoling him and doing anything to get him to fall asleep. The next night, it didn't begin until about 4:45am, and I was up until close to 7 trying to get him to fall asleep.
The morning after he saw the movie, we asked him what his dreams were about. He answered, "I was dreaming about Darth Vader cutting off Anakin's hand."
"You mean Luke's hand."
"Yeah. And about Darth Vader freezing Anakin."
"You mean freezing Han Solo."
"Yeah."
It's kind of funny how he calls everyone Anakin. When he first heard of Indiana Jones this past Spring/Summer, he kept calling him Anakin Jones. I guess he really likes the name Anakin… It's a good thing Will doesn't get to name the new baby.
In an attempt to save ourselves another sleepless night, we put a night light in Will's room the next day. No nightmares since. It will probably be quite some time before we allow him to see this one again. Although, naturally, the next morning when we suggested that he shouldn't watch the movie again because it gave him such nightmares, he responded, "No, it's good for me!"
Dirt, Dirt, and More Dirt
On New Year's Eve, Randy graciously brought Malin a humongous truckload of nice, dark dirt for her garden. When I say big truckload, I mean it. He brought over a Dodge Ram 4500 with a hydraulic-powered bed specifically made for hauling dirt and mulch – literally.
So that afternoon was filled with shoveling a truckload of dirt onto the beds in Malin's garden.
The next day incurred even more work, of course: tilling. I got to use our baby tiller – the "cultivator" – to re-till the beds and mix the new, dark dirt with the existing soil and clay.
While we were busy out there, we also moved our hop plant to the garden (it was previously in a natural area off the side of the house).
New Year's
One of the gifts that my mom had gotten for Malin was an excellent cookbook named Charcuterie. Ever since pouring through its pages, we wanted to cook something from it.
So on Tuesday we went and bought a reasonably-priced meat grinder (an attachment for her Kitchen Aid mixer). We had decided to make a country pâté since all the ingredients were easily available – except for pork liver (which is really hard to find around here). We substituted chicken liver in our preparation of a Pâté de Campagne. The result is tasty – a salty, cold, meatloaf that is elevated to new heights thanks to the use of pork fat (to improve its flavor), sweet spices (think pumpkin pie spices – to make for sublime seasoning), and a small amount of liver (to smoothen the texture).
The pâté, unfortunately, was not actually consumed on New Year's Eve. We prepared it that day/evening, but it wasn't ready to eat until the next day.
So that night we made braised beef short ribs with some reheated potato croquettes from Christmas dinner.
We didn't quite make it to midnight. We offered to let Will stay up with us, but he crashed around 10:30pm. We decided to toast around 11:30pm (Lindeman's Pêche, not champagne) and then go to bed. We didn't feel like pushing ourselves to stay up that last 30 minutes. Perhaps that's lame, but I'd say it's not. I'd say it's lame to stay up late for the sake of staying up late. After all, we weren't at a party or even around other people this year. So with Will asleep, there would be nothing interesting at midnight that we had not seen dozens of times before. Besides, we had both had crummy nights of sleep recently thanks to Will's Darth-Vader-induced nightmares…
Tasty Tacos
This past weekend was my last weekend of vacation. I greatly enjoyed these two weeks at home, but all good things must come to an end it seems…
On Friday, we met our friends Scott and Karyn at Taqueria del Sol. We caught up, saw their baby daughter Zoe (whom I've seen only once before – and she had grown a lot since then), and ate some tasty tacos. We'll be seeing them again soon because Malin is going to take some pictures of Zoe. I mentioned that we'll bring some home-made sausages (thanks to the magical instructions and recipes in the Charcuterie book). To that, Scott replied, "As long as they're turkey sausages."
He is a bit disdainful of fatty indulgences like sausage. Turkey sausage – ha! I have no problems making a turkey sausage. The book even has a recipe for one. But it sure as hell will include pork fat – because turkey is far too lean to make a proper sausage by itself (as is virtually all meat except for pork shoulder and beef short rib…)
After lunch we returned home. The weekend was slow and relaxing. I brewed beer last night (Sunday). All is right with the world.
Posted by Josh on January 05, 2009 at 11:16pm
One Response to "Humphouse Holiday Week"
on February 02, 2009 at 11:24pm

Love the warning on Will's bike… :)
Leave a Reply