Mar 03
The other week, our little town of Tyrone was hit by a wicked hail storm. We had lots and lots of golf-ball sized hail stones, and several stones that were even bigger!
You can see the dogs, curiously sniffing what appear to be alien space rocks: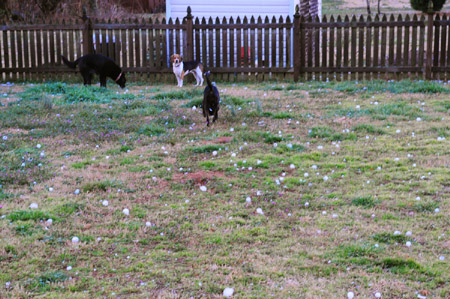 And here are the two really big hail stones that Malin and Will decided to save: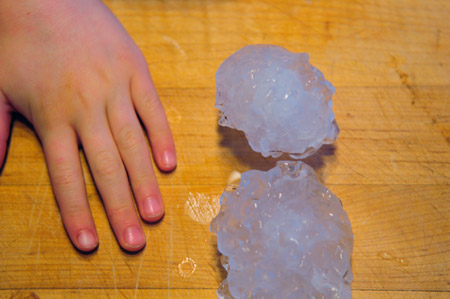 We still have them in our freezer today, although the defrost cycle in there has shrunk them down a bit.
So we had to make a home-owner's claim because we have dings in our roof and a lot of cracks and pops in the siding. Lovely. And wouldn't you know it: the day the adjustor comes to inspect everything is the day after a wintry blizzard, so there is nothing they can do until later in the week (after the snow melts).
I don't have any pictures of the snow unfortunately. We got a heck of a lot, and had lots of accumulation – even on the asphalt. I worked from home Monday because I could see patches of black ice on the road around my house and the traffic report on the news indicated several ice-related accidents: a patch of ice on GA-400 causing problems and all lanes of I-20 closed due to a jack-knifed tractor trailer. I decided it was wiser to wait until everything melted away, which it did that day. All that was left this morning consisted of small patches of snow in the yard that were shaded, protected from the sun's rays.
If you want to see pictures of what it looked like, you can use the pictures from last year to get a decent idea.
Posted by Josh on March 03, 2009 at 9:43pm
2 Responses to "Hellacious Weather"
on March 04, 2009 at 10:02am

Wait — did you get a beagle?

on March 04, 2009 at 11:12pm

Not exactly. We were dog-sitting for friends of ours that were in Texas during this week. They have a beagle.
Leave a Reply